Although Texas has been feeling like summer for months, I thought now would be fitting to do this post considering that the "official" first day of summer was June 20th. Like any other girl, I am a bikini hoarder but I am not a fan of how pricey some have become. I'm sure most of you have heard of SheIn.com but if you haven't then girl you need to jump on board! SheIn has THE cutest clothes for THE best prices ever! A shopaholic's dream. I actually ordered a bunch of stuff the other night so you'll be hearing a lot about their clothes once they finally come in the mail! They also have swimsuits which, yep you guessed it, are super cute as well. I've linked some of my favorite suits from their site that are all less than $20. There will not be any breaking of the banks today. Hallelujah!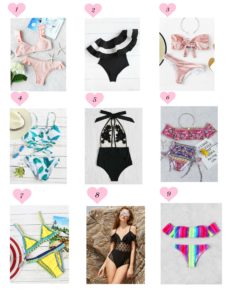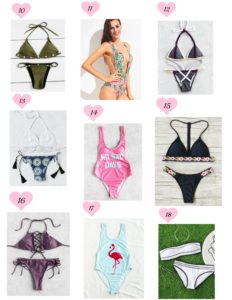 1. Ruffle Strap Textured Bikini Set $16
2. Two Tone One Shoulder Flounce Swimsuit $20
3. Frill Trim Velvet Bandeau Bikini Set $14
4. Leaf Print Wrap Detail Bikini Set $14
5. Flower Embroidery Halter Mesh Swimsuit $15
6. Graphic Print Bardot Lace Up High Waist Bikini Set $14
7. Crochet Trim Triangle Beach Bikini Set $20
8. Polka Dot Mesh Panel Frill Swimsuit $18
9. Block Striped Off The Shoulder Bikini Set $14
10. Shell Embellished Triangle Bikini Set $15
11. Leaf Pattern Pink Plunge Neck Backless Swimsuit $14
12. Contrast Strap Triangle Bikini Set $13
13. Graphic Print Tassel Tie Crochet Bikini Set $15
14. Letter Print Tank Swimsuit 
15. Black Floral Print Triangle Bikini Set $16
16. Criss Cross Lace Up Halter Bikini Set $15
17. Flamingo Print Tank Swimsuit $15
18. Contrast Trim Bandeau Bikini Set $19
You can shop all their swimwear here if you want more options!