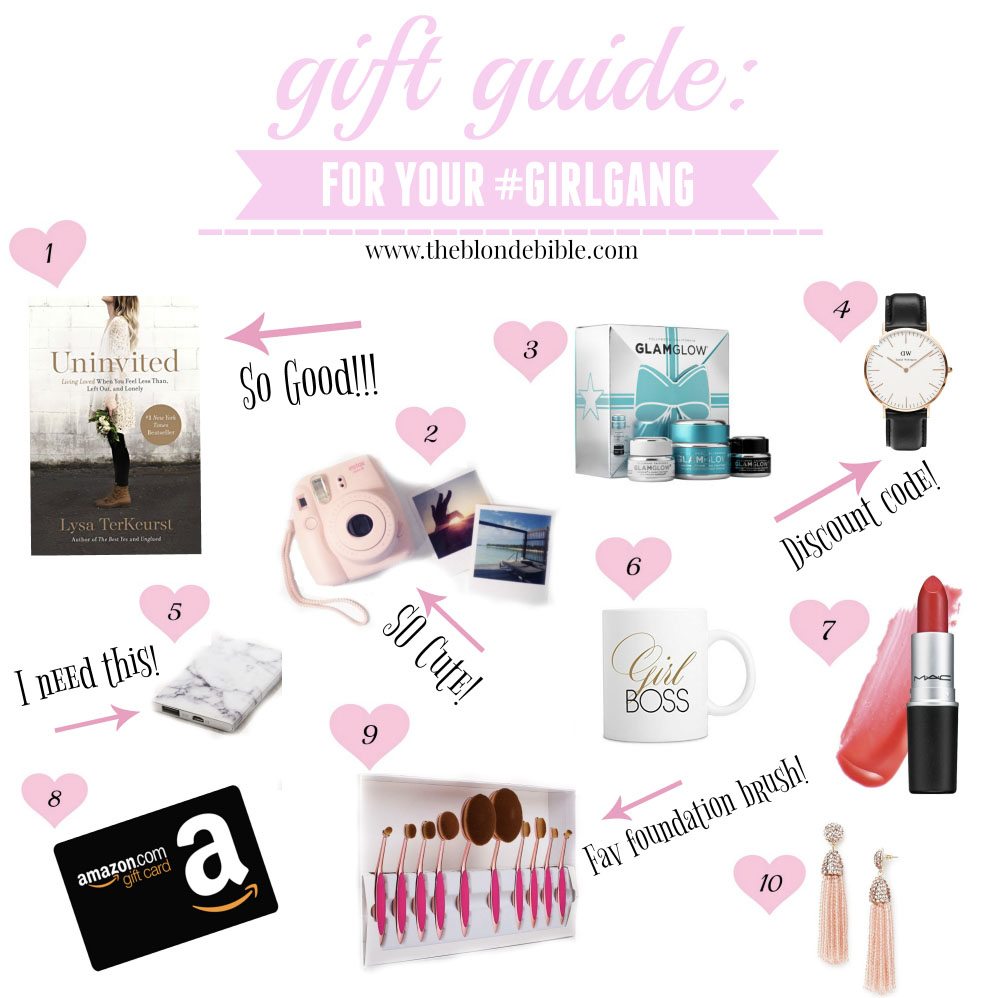 1. Uninvited: Living Loved When You Feel Less Than, Left Out, and Lonely $10
Every girl needs to read this book. It's seriously THAT good. It's inevitable that at some point in our lives we will feel all those negative things that are listed in the title, especially us college aged girls! Life can get tough, right?! This book does a great job at reminding you that you are not alone and what it means to live loved through God and what that looks like. Reading this book may not fix everything but it does a great job at putting things into perspective and I guarantee you will feel 10x better after reading it. So pass a copy along to someone in your #girlgang! They'll definitely appreciate it.
2. Urban Outfitters Mini Polaroid Camera $59
Does this one even need an explanation?! It's so cute! My friend got me one of these for my birthday one year and I am obsessed with it! Plus, it gives you an excuse to finally make that cute polaroid wall you always see on Pinterest! #BedroomGoals
They even come in multiple colors so you can choose whichever one your BFF will like the best!
I have been using GlamGlow for the past year now and can't get enough of their products! I use it as my moisturizer everyday before I put on my makeup (You might already know that if you've read my Skincare Routine post from the past 😉
GlamGlow offers this mini set of multiple products such as their mud masks. It makes for a perfect spa night which any girly girl would love.
4. Daniel Wellington Watch $159
I was so excited when Daniel Wellington reached out to me to collaborate a few months ago because their watches are SO PRETTY. My favorite one I received from them was this Petite Gold one that I linked above. It is the perfect accessory to add to an outfit, especially around the holidays. Anyone else obsessed with gold like I am?!
You can use code 'MEGANTAMPLIN' to get 15% off your order! 🙂
5. Marble Portable Charger $24
If any of your girlfriends are as attached as I am to their phone then they will definitely appreciate this gift! My phone dies SO FAST, so this one is even on my wishlist this year. Ain't nobody got time fo' a dead phone, amirite?!
Every girl boss needs a cute mug to sip coffee out of in the mornings and get sh!t done! It's time to work in style! Plus, they make for cute decor when you're not busy sippin' on your favorite brew.
You can never go wrong with a new lippie! I'm loving the color 'Red Rock' for the holidays and your girlfriends will too!
My friends always make fun of me because of how much I love gift cards! They think that isn't a fun and creative gift, but gift cards are one of my favorite things to receive. Especially with Amazon, you can get ANYTHING and everything! Give your gal pal a whole world of possibilities with this gift, especially if she's picky like me!
My Makeup Brush Set sent me a pack of their 10 piece oval brush set and it changed my life! (I actually have a review and tutorial coming soon since I partnered with them and love the set!) I use the large foundation brush everyday and it seriously makes my makeup go on SO much smoother than the regular brushes I used to use.
These would be a perfect gift for any makeup lover in your group, plus they are so pretty with that gold detail!
Baublebar earrings are so pretty with their colors and fun designs offered! With so much variety there's no doubt you can find a pair perfect for each girlfriend in your life! These would be great for any fashionista!
Thanks for reading! What's on your list this year?!